Who we are
More than
100 years

of experience combined

RJLL is a drilling company serving the mining industry in providing core sampling. Over the years, Mr. Lemoine, M. Lefebvre and Mr. Bradley have acquired incomparable drilling experience. It is the pleasure and the desire to surpass industry standards that this long-standing collaboration allows RJLL drilling to carry out work both in Canada and abroad.

We take pride in an experienced team that knows how to adapt quickly to customer requests and unforeseen situations. This allows us to offer a high level of service. It is powered by the Bradley culture that RJLL is committed to providing high quality service and exceeding the expectations of their customers.
Proudly
certified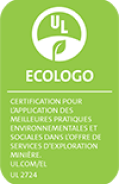 RJLL is proud to be ECOLOGO certified. Our company has been awarded this certification which recognizes environmental, social and economic best practices.

Obtaining this certification is a concrete demonstration of our commitment to sustainable development.